Property Details
The estate consists of two adjoining lots (3.3 acres and 2.04 acres) on rolling terrain (see "Outdoor Video Tour" button on the left). The estate is located in a prestigious gated community with two acre lot size minimums and a multitude of multi million dollar homes and estates
Despite its prime location, the subdivision is tucked away in a hidden and secluded world within a world. Many realtors are not aware of its existence even though it is a just a couple hundred of yards north of the Plano/Frisco city border. The subdivision is less than 5 minutes from Stonebriar Mall and within a stone's throw from Stonebriar Country Club. The North Dallas Tollway borders the east side of the subdivision and Legacy Dr. borders the west side. Highway 121 is less than a minute from either of the two subdivision entrances.
The estate has its own commercial quality well currently used only for irrigation. The well eliminates all watering restrictions. For details click on "The Well" button on the left side of this page.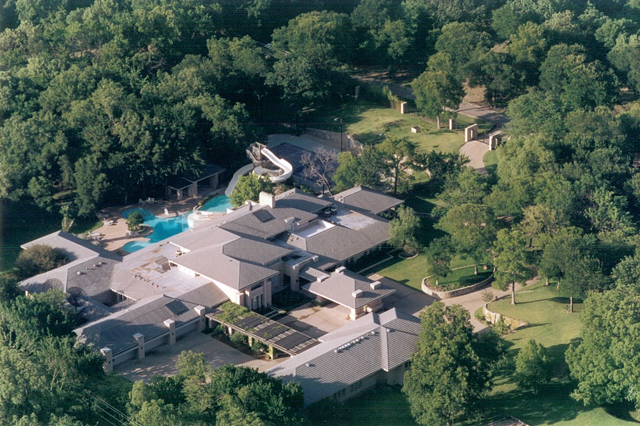 Two creeks with a variety of large natural trees provide an unrivaled natural setting. Although located in the center of a thriving fast growing commercial and residential community, once inside the estate grounds you have the security, comfort and feeling of serenity that is usually impossible to experience in the center of a metropolitan area.
The property has character and charm to go with its other multiple benefits. It is completely enclosed by high quality perimeter fencing with its own electronic security gate. This is in addition to the security gates at the subdivision entrances.
The property gently slopes from south to north as well as from east to west. The elevation changes are shown in the Topographical Survey button on the left.
The Winter Wonderland and Outdoor Video Tour buttons on the left provide will help give you a feel for the property,