Wine Cellar
Underground wine cellars in the Dallas area are a rarity The high water table in the DFW Metroplex normally makes it financially prohibitive to build a genuine underground cellar.
As shown in the short video clip below, the pouring of the cement shell for the wine cellar was the first major part of the home construction. The outside dimensions of the wine cellar shell are about 14 ft by 29 ft. The shell itself is about 1 ft thick. What isn't pictured is the waterproofing on the outside of the shell as well as the French drains at the footing.
What made it possible to build the wine cellar is a downhill fall from the base of the wine cellar to Stonebriar Creek. This made it feasible to collect the groundwater in the French drain and let gravity do its thing by moving the ground water to Stonebriar Creek. Usually, the only alternative available to someone wanting to build an underground wine cellar in the Dallas area is to have a pumping system to pump out the underground water, and that assumes there is someplace for the pumped water to go. Pumping into a sewer system is not usually permitted.
| | |
| --- | --- |
| Wine Cellar Stairway from Art Gallery | Electronic Lock Entrance to Cellar Door |
Wine Cellar Interior
Two temperature and humidity systems maintain the wine cellar at the correct temperature and humidity. Although one unit is sufficient, the second unit serves as a backup should one of units need repair.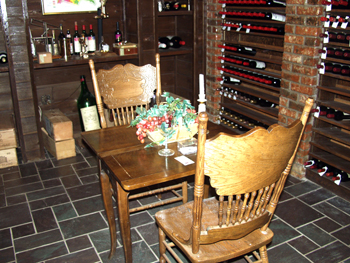 The tasting table provides the opportunity for those special guests to appreciate the fragrance and taste of those special wines while still in their ideal storage environment.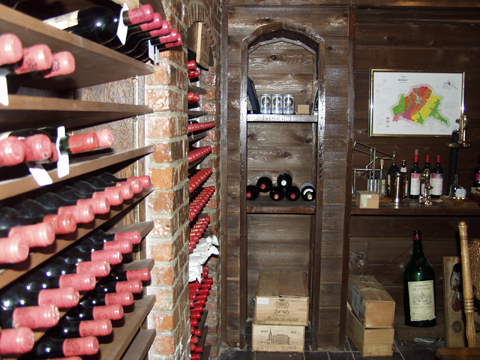 The shelves permit the bottles to be stored at the proper angle. The cork remains submersed in wine while the sediment makes its way to the bottom of the bottle.

Large bottle storage for magnums to jeroboams and larger are provided as well as case storage.

Two refrigerated coolers keep white wine at the serving temperature.